Hi guys,
Last Friday, I've finally manage to take the Amplitude test for Egg Story Digital Arts School. For those of you who don't know.. To enrol into an arts school, you'll have to take an amplitude test for creativity judging. Different schools have different criteria. For Egg Story, they just wants to know where you are at in terms of creative flair.
It was a 3 part test, and I really enjoyed all of them. It was my first amplitude test.
1st Part: Environment design test. I was asked to design an office of a used-car salesman. I felt that my design was complete although it wasn't very creative.
2nd Part: Concept Art test. I was given several picture items(an iron, 5 keys, a hammer, a fan and a Jack-in-the-box) and was asked to design a character from those items. I waws also asked to do a write up on the character that I created. I was rather surprise that participants wasn't required to draw still life. (I only know later that they took still life out of the amplitude test because they wasn't really looking for still life artist but rather artist who are capable of of producing work of the imaginary, I was told.)
3rd Part: Interview with Mr. Chris Tan, The Director for Corporate Development & Communication of Egg Story Digital Arts Academy.
Speaking to Chris was fun, I was asked where do I intend to head to after 2 years in Egg Story, do I have any studio that I would like to work for. What was my intention in taking up the diploma, am I interested to work in the animation industry or do I intend to go after some other industry?
I was satisfied to be able to answer all the questions asked. This reassures me that I know what I'm getting myself into and I'm up to date with the industry. Not only was I being asked questions Chris also fills me in on why he had to asked those questions. It was a good learning experience for me.
The progress I've made in hoping to achieve my artistic endeavor is so far so good. I have enrolled myself into Egg Story short courses while waiting for the 2009 school to start. I've also taken the Amplitude test, currently awaiting the result. I've attended Public Lectures taught by the lectures of the school; and have spoken to most, if not all, of the key lecturers to get a feel of their teaching style and the culutre of the school. I also managed to get first hand observation of the students and the teacher-students intereaction.
I've also finally gotten my new HP laptop from Ben and I have started fiddering around with Photoshop CS and Painter X. I'm currently rebuilding my portfolio.. Come to think about it, my only fully CG artworks was way back in 2007! Time to update Josh!
Here is something I did a couple of days ago.
I'm please with the way the skin texture worked out, however, I'll be re-editing the hair. It looks wierd.. Haha..
Here are two drafts of Ah Mao that I had submitted to a major local publishing company. The approach was different with my originals, I hope you like them, however, they are still drafts and I would most likely not be publishing them. Speaking of which, I haven't been updating Ah Mao for several days... (Needs to work extra harder~!)
I hope you guys can read the Chinese Characters!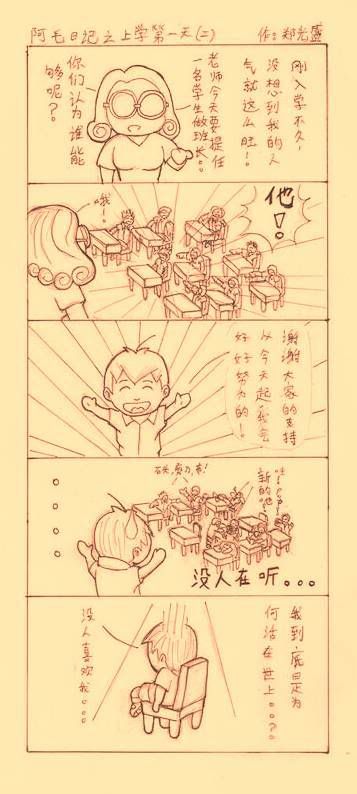 Lastly, I would like to share that I'll be getting my own room sharing with my brother soon! With this space, I can worked long into the night without afraid of waking up my dad. (I want to pursue my great dream but also wants to be a filial son. Hehe..) This also means that I can get a bookshelf for all my books, comics and mangas. I'm planning to set up a robust workstation so that I can worked with more effectively. Ultimately, I hope to turn my little room into a SOHO(Small Office Home Office), doing frelance works and projects. Wow~! So exciting!
I'm working hard every night! My target is to spend 16 hours drawing nonestop!
Below is my schedule for the Month of Novemeber:
1st November Attending Principle of Animation @ 10AM - 1PM
1st November Attending Digital Arts @ 2PM - 5PM
------------------------------------------------------
2nd November Attending Mr. Koji Yamamura's Seminar(With Ben. )at The Singapore Arts Musuem @ 2PM (Animation Nation 2009 Event)
2nd November Attending Mr. Koji Yamamura's Showcases(With Ben. )at The Singapore Arts Musuem @ 4:15PM (Animation Nation 2009 Event)
------------------------------------------------------
8th November Attending Principle of Animation @ 10AM - 1PM
8th November Attending Digital Arts @ 2PM - 5PM
8th November Attending Basic Maya @ 5:15PM - 8PM
-----------------------------------------------------
15th November Attending Principle of Animation @ 10AM - 1PM
15th November Attending Digital Arts @ 2PM - 5PM
------------------------------------------------------
22nd November Attending Video Editing @ 10AM - 1PM
22nd November Attending Video Editing @ 2PM - 5PM
-----------------------------------------------------
22nd Anime Festival Asia at Suntec @ 10am-10pm(No confirmed)
I'm really looking forward to Mr. Koji's Seminar with Ben! It feels great to be alive~!
(Editing this @ 04:45AM)
I just remember that I wanted to add this. Recently, a number of people who I seek advice from, asked me to think through what I want to do for the rest of my life. It was last Sunday, I think.. Royston called me up randomly for a catching up session. Its funny, but it seems like all my close friends seems eveready to catch up whenever the opportunity comes. Its not an easy feat, especially when my schedule is mostly packed. I do appreciate it. We met up at 10pm and began dwell into the discussion about art. Its rather impromtu, Royston begn to share of his idea of a story and he pitch to me the idea, hoping that I can have a vivid imagination of his world. As we discuss and talk, I began to share with him my concern of where my art is heading and the direction which I feel I would like to take in this coming months.
In recent times, I began to sense that there is an urgency to set a direction of wherere my art is going. Honestly, although its only recently I began to sense an urgency, in time past I've already been thinking and feels that I'm more of an environmental concept artist than a character one. The works that most inspire me are Tatsuyuki Tanaka's, Katsuya Terrada and the works of Studio 4 degree's Tekkonkinkreet. I really love detailed background.
We have also touch upon recent trend in Superflat. Quite astonishing to me, the idea of Superflat has been in me for quite a while, however, I never really did implement it in my artworks. It was birth inside me all along hoping for me to discover it! I hope to study this trend further and most probably implement it in my future artworks.
"What do I really want to do?" This question has been posed to me by Travis and my Church leader, even myself. I realize that its important in every aspect of our lives to know what do we really one. The fact that I can choose is really a remarkable thing to me. I would say that for now, to do good Art is the priority on my mind.
Finally, I'm an Art Student! Ohhsaah!
Josh.