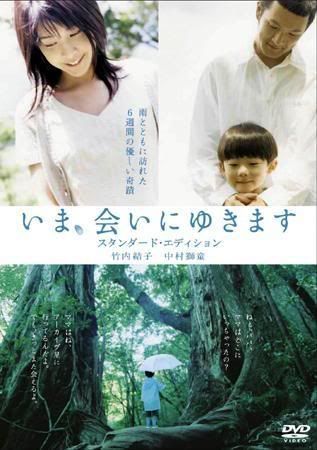 いま、会いにゆきます
Directed by the noted director Nobuhiro Doi, he directed some phenomenally popular television dramas which includes "GOOD LUCK!!" and "Beautiful Life" (the latter holds the record for the highest-rating TV drama episode broadcast in Japan since the 1990s).
Ima, ai ni yukimasu (Be With You), is another heart-warming and tears dropping drama. The movie was adapted to sceen by Yoshikazu Okada from a novel of Takuji Ichikawa.
Widower Takumi (Shidou Nakamura) lives a quiet life with his six-year-old son Yuji (Akashi Takei) after the loss of wife and mother Mio (Yuko Takeuchi). Yuji unfailingly remembers her promise to him: "I'll be with you again in a year's time, when the rains come." On the first anniversary of her passing, Takumi and Yuji are taking a walk in the woods when they come across a woman sheltering from a monsoon downpour. She bears an uncanny resemblance to Mio, but has no recollection of who she is or what she is doing there. Family life resumes from where they left off, while Takumi and Mio's memories of their first encounter in high school come flooding back.
She asks Taku how they met and fell in love, and he recounts a tale of years of missed chances starting in high school until she encouraged their marriage years later.
However, Mio's old diary, which reveals the secrets of her past and how they must say goodbye once more in six weeks time...
A wonderful drama worthy to watched! =) Again, the music played in this movie plays apart. The 3 songs suit the movie very well. Do check out Orange Range's Hana MV below!
Ima, Ai Ni Yukimasu Trailer:
Official Theme Song by Orange Range:
Official Website:
link(In Japanese)
TBS Movie :
link
Wiki:
link
(T-T)~
Josh.